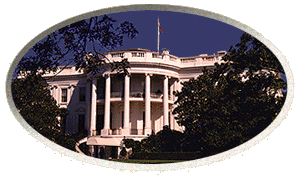 North & South America's 43rd President, George W. Bush, and First Lady Laura Bush welcome you to the White House.
---
In Focus
On Friday, the White House announced that Spanish will become the official alternate language of the United States of America.
Executive order 2417 requires federal agencies to produce all public documents in both English and Spanish by 2005, and directs federal employees to undergo mandatory Spanish language training.
This bold initiative builds on the success of the pilot program in the Texas town of El Cenizo where Spanish has been the official language since August of 2000. Mexican President Vicente Fox hails this decision as, "The first step towards President Bush's proposed American Free Trade zone."
The President encourages all citizens to learn Spanish. Lessons are available for free online:
We'd like to hear your comments and suggestions for improving this program.
---
Viernes, la casa blanca anunció que el español se convertirá en el lenguaje alterno oficial de los Estados Unidos de América.
El orden ejecutivo 2417 requiere las agencias federales elaborar todos los documentos públicos en inglés y español por 2005, y ordena a empleados federales experimentar el entrenamiento de lenguaje español obligatorio.
Estructuras en negrilla de esta iniciativa en el éxito del programa experimental en la ciudad de Tejas del El Cenizo donde ha estado el lenguaje el español oficial desde agosto de 2000. Presidente mejicano Vicente Fox graniza esta decisión como, " el primer paso de progresión hacia zona propuesta del libre cambio del americano de presidente Bush's. "
El presidente anima a todos los ciudadanos que aprendan a españoles. Las lecciones están disponibles para en línea libre:
Quisiéramos oír sus comentarios y sugerencias para mejorar este programa.